(a copy of this newsletter can be downloaded here)
Welcome back to Basketball – it's been such a long time since we last had the kids on the court. This newsletter is to give you an update on what needs to be done prior to the season starting.
In order to get ready for the season, we need you to do a few things:
Get your child registered on playHQ by the 31st January.
Check their shorts and singlets still fit.
Season dates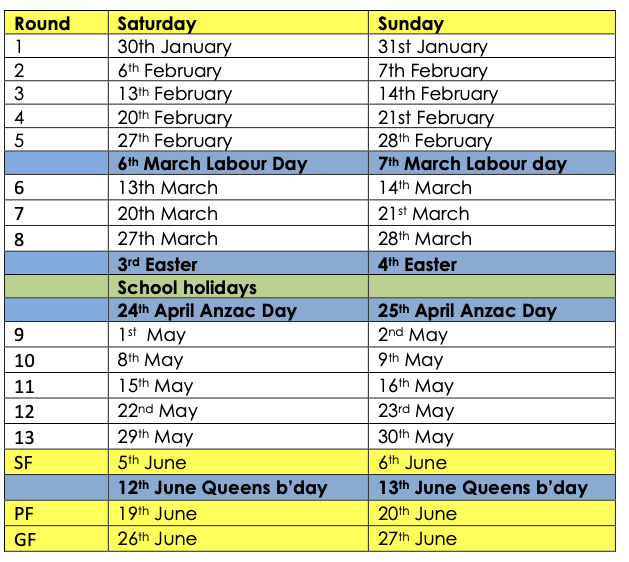 All Games (boys and girls), will be played on the weekend. Saturdays U8-U16. Sundays Boys U18 & U21 and U19 Girls.
If you haven't already can you please join our Facebook page – Laurimar Sporting Club. This way I can keep you posted much more quickly.
NB. Players need to be under the age of the age group they are playing in. This means that if your child is turning 14 in June, they will play as a bottom age under 16.
Registration
Registration closes on 31st January to ensure each child is in the system, we apologise for putting in the wrong dates, we had worked out end of grading games. But all players need to be registered in the system prior to playing any games. Should they not be registered then they are not able to play. No one is to be added court side, should this occur the player will be ineligible to take the court again until they are registered and financial.
Training
Training will start back Monday 1st and Tuesday 2nd February. Due to the dates that the first games fall under we won't be able to start back at training until after the first game.
Uniforms
We are open to purchase shorts this Saturday 23rd at 10–11am & Wednesday 27th 6-7pm at the Laurimar Power Sporting Club – Merchandise Shop – Montville Street, Doreen (please note NO SINGLETS on this day).
COVID Update
We still don't know how many parents will be able to attend each game. But once I have this information, we will put it on Facebook and have the team managers let you know, in case you're not on Facebook.
As a club we must comply with the Government COVID standards of tracking where and when our members have been at our training venue, please ensure you scan the available QRG code each time you and your children attend training. Please also be mindful of any requirements around managing cleaning at our training venue.
We also ask that all members comply with all COVID protocols implemented by DVBA when attending their venues.
Fees
New players to the club fees are set at $260. For returning players fees have been reduced to $180 allow for games played in Autumn 2020 your team manager should have passed on the voucher code to obtain the reduced fees on registration.
We have paid out game fees for 6 games in Autumn 2020, gym hire (including several weeks in June/ July when we thought we'd have a spring season), and purchase of new singlets all from last year's payments. This season we have been informed of increased costs from Diamond Valley to cover COVID cleaning costs, and gym hire increases for the same reasons. Which we need to manage (hopefully for), an entire season without the luxury of the majority of players not paying full season fees.
We need your help…
If you would like to volunteer or find out more about how you may assist please see below for a quick run-down and if interested please let me know on junior.ops@powerbasketball.com.au.
Year level Coordinators – all enquiries for each age group goes firstly to the year level coordinators for those year levels that don't yet have a coordinator please contact Kim Maloney on the numbers below.
Boys
Under 8       VACANT (WE NEED YOU)
Under 10     Tracey Holian         0400 499 272
Under 12      Tracey Holian        0400 499 272
Under 14     VACANT (WE NEED YOU)
Under 16     Amelia Rambaldi   0417 698 001
Under 18     Kim Maloney          0438 561 902
Girls
Under 10       VACANT (WE NEED YOU)
Under 14         Amelia Rambaldi   0417 698 001
Under 16         Amelia Rambaldi   0417 698 001
Uniforms     Janine Dorsett        0405 316 197
As more information comes to light, we will continue to provide updates.
We are excited by the opportunity for our kids to get back into basketball and some semblance of normality. Thank you all for your patience throughout this time as Basketball Victoria and Diamond Valley Basketball Association have been working hard to work out what the correct protocols would be to allow us to return to playing the under 18 competition.
Thank you to everyone who volunteers, supports and is involved with Power Basketball, let's work hard at training (when we can get back to it) so we are ready to return to playing; play well and fair; represent our club well at all times; but most importantly play a game you love with your mates; and have fun!
If you have any further enquiries please contact one of the Coordinators mentioned above.
Go Power
Warm regards,
Kim